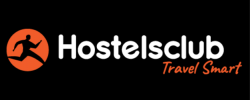 HostelsClub is a young and dynamic online booking service that enables thousands of travelers to book all over the world in an easy, fast and secure way.
Their site provides travelers from all corners of the globe an online engine for searching and booking destinations worldwide. Whether you are traveling to or from Europe, North America, South America, Asia, Oceania or Africa... they will have what you are looking for! HostelsClub offers a wide range of accommodation choices suitable for all travelers' budgets and needs.
You can create a FREE Premium Account and start booking best accomodation for yourself in your travels using links below.